Picking up a daily paper at your local coffeeshop, grocery, or convenience store is a dying art — and a dying business.
You can still get a wine advent calendar at an Aldi store in the U.K., but you can't buy a newspaper to go along with it.
The German-owned grocery store chain — which is the fifth-largest in the U.K. and also operates in 17 other countries — is no longer selling newspapers or magazines as of September 30, the Press Gazette reports.
Whilst shopping in my local Aldi trying to eake out my pension, I overheard the checkout person telling a lady they will be stopping selling newspapers. It seems they send back nearly as many as they get.. jolly good news, print is dead.. papers anyway
Print no longer required! It may be only one branch of Aldi, but it appears to be yet another sign of the disruptive, nay destructive, nature of the digital revolution. Once there were tablets of stone. Now we get our messages on tablets of plastic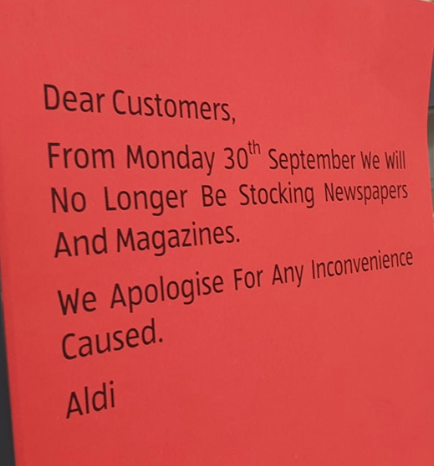 Their removal is reportedly the result of a dispute with distributor Fore UK. But the disappearance of reading materials from retail shelves isn't a trend limited to Europe. Starbucks stopped selling print newspapers at its 8,600 U.S. outlets in September, though it announced this month it will offer free digital access to a handful of newspapers in its stores, at least for a limited time.
And U.S. supermarkets are also increasingly getting rid of their newspaper and magazine sections to make space for more profitable wares. Kroger, which is America's largest supermarket chain by revenue, will no longer carry free newspapers and magazines as of October 15, after carrying them (and giving local publishers exposure) for 20 years.
"We are removing the publication racks from our stores because more publications continue to shift to digital formats, resulting in less customers using the products," a Kroger rep told Memphis Business Journal. The local publishers — which were paying a distributor, DistribuTech, for space in the Krogers stores — unsurprisingly aren't happy. The Association of Alternative News Media launched a campaign last month to try to get Krogers to keep free pubs like its member alt-weeklies in stores, and individual news outlets are asking their readers to call Krogers and complain.
Berl Schwartz, the editor and publisher of the free City Pulse in Lansing, Michigan, wrote this week:
Readership of paid print publications, such as daily newspapers, is declining, it's true. And those publications are pushing readers to digital versions because newsprint is costly and digital is relatively cheap. Moreover, prices for daily newspapers have become expensive. In Lansing, for example, the State Journal's newsstand price is $2.50 a day, and more on Sunday. That's further incentive for readers to turn to digital.
But that is just one segment.
Print editions of newspapers such as City Pulse have benefitted from the increasing cost of paid newspapers because we are free. More and more readers have turned to City Pulse in this market for news and information. Ironically, distribution at Kroger proves the point: whereas about 1,100 people picked up their copies at Kroger in 2012, over 3,100 were getting it there, until this week, when the ban took effect.
City Pulse is not the exception. In Cincinnati, home to the Kroger Co., about 8,400 people a week were getting their local free newspaper, CityBeat, at Kroger. The numbers are similar in Nashville and Memphis. In Colorado Springs, Colorado, 4,000 a week do. The Wichita (Kansas) Eagle just reported that 12,000 a month pick up a free publication at the area Kroger stores.
Our guess is Kroger just did not do its homework when it forged this new policy. Hopefully it is paying attention now.
Nor is the policy consistent. For example, in this market, other free publications associated with Gannett, which owns the Lansing State Journal, remain available in Kroger stores. Perhaps Kroger does not want to disturb its arrangements with Gannett and other paid newspapers, which may be more lucrative than what City Pulse and other free publications have been paying for space. Regardless, Kroger has misdirected its fire at free newspapers when it is paid publications that are declining in print, and it is inconsistent for not also banning free publications distributed on Gannett racks.