Coronavirus y Seminario Anual ATDL Panamá 2020
La pandemia de coronavirus, que afecta a distintos países del mundo, obliga a redefinir la realización de eventos.
Por esa razón, la Asociación Técnica de Diarios Latinoamericanos (ATDL) sigue con mucha atención la evolución de los acontecimientos para tomar una decisión apropiada sobre el congreso que ha organizado para el 9, 10 y 11 de septiembre en la Ciudad de Panamá.
Todos los miembros de la conducción de ATDL observan con detenimiento los consejos que emiten los gobiernos de cada uno de sus países, a los fines de resolver lo más conveniente para los socios.
Si bien faltan aún casi seis meses para la realización del congreso y por ende es temprano para una decisión definitiva, la premisa de ATDL es hoy ofrecer la mejor seguridad para todos.
Esto guiará en su momento la resolución al respecto. Muchas gracias a todos.
Coronavirus-Acciones en plantas de impresión para enfrentar la crisis
Se presenta en el siguiente articulo una serie de medidas que se han tomado en diferentes plantas de impresión de asociados a ATDL para enfrentar la crisis desatada por el Coronavirus.
Dado que son condiciones que cambian rápidamente con el tiempo, muchos han dividido la crisis en dos o tres etapas a medida que avanzas los casos de contagio, o bien debido a restricciones en la circulación de personas, o confinamientos mediante cuarentenas obligatorias, parciales o totales.
Podemos resumir en las siguientes acciones:
Armar grupos de trabajo "estancos", compuestos siempre por las mismas personas y aislados del resto de personal de otras áreas. Es decir, no se producen rotaciones sino que las mismas personas estan siempre juntos.
Un mismo supervisor por grupo.
Entrenar a los mismos para autodetección de casos sospechosos de Covid-19.
Evitar por todos los medios que haya cruce de personas que se retiran con los que entran a la planta.
Dentro del grupo tomar todos los recaudos por exagerados que sean, de higiene y distancia prudencial.
Las reuniones necesarias efectuarlas en ambientes abiertos y ventilados.
Organizar el resto de sectores con los que se tenga interacción, también en grupos, por ejemplo el sector Expedición, de modo que dicha interacción siempre se realice con el mismo grupo del otro sector.
Aumentar los almacenes de insumos y de repuestos en buena medida en prevención por posibles bloqueos de rutas o movimientos de mercancías. Algunas comunidades por pánico bloquean el paso o detención para carga de combustible y no llegan las mercancias.
Revisar todos los dispositivos de higiene (Ojos, manos, alcohol en gel, algohol al 70%, alcohol al 96%, y si es posible aumentar la cantidad y su distribución en planta.
Generar la cartelería correspondiente, aumentar la misma, utilizando tambien televisores donde se insista con el cuidado personal.
Organizar con el sector correspondiente la limpieza permanente de sitios comunes, baños, etc.
Cerrar todos los accessos posibles a las plantas, de modo que sólo el personal autorizado pueda ingresar.
De esta forma se evita que terceros, personal de transporte, de otras empresas puedan ingresar y contaminar la planta.
Tampoco deben ingresar a la planta otros empleados de la propia empresa pero no esenciales.
Otras acciones de prevención
Conservar la distancia personal, aprox. 1.5 a 2 mts. Evitar los saludos con beso o mano.
No compartir vasos, ni otros elementos.
Las personas embarazadas o mayores de 60 años no deben concurrir a la planta.
Si se dispone de dispositivos electrónico de huella dactilar, suspender su uso. Implementar otro sistema o bien con la ayuda de la guardia de la planta el control visual.
Si se dispone de espacio de vestuarios en la planta, disponer una modalidad de uso de modo de conservar la distancia personal, por ejemplo ingreso de a menos personas, o distanciamiento de lockers, etc.
Disponer junto con areas de RRHH la vacunación antigripal del personal cuanto antes.
En las empresas con sectores exteriores para fumadores las personas se juntan a fumar en los mismos que suelen ser reducidos y estan muy cercanas entre si. Arbritar los medios para que los fumadores puedan hacerlo en areas mas abiertas, siempre en el exterior de la planta.
El mismo criterio utilizar para empresas que cuentan con áreas de descanso.
Documentar fehacientemente todas las medidas tomadas para cualquier inspección de entes gubernamentales.
Esquema de trabajo
Dependiendo del tamaño de la plantilla de trabajo, se organizan diferente cantidad de equipos estancos como se mencionó anteriormente, pero el común denominador es tener, para cada equipo una determinada cantidad de dias de trabajo y la misma cantidad en la casa, por ejemplo, 4 días de trabajo x 4 días en la casa.
Si se tienen varios turnos, puede organizarse por ejemplo 2 equipos para el turno mañana, uno trabajando y el otro en la casa, lo mismo para el turno tarde, y el doble (4x4) en el turno noche.
Dado que el nuevo modelo de trabajo cuesta asimilarse, es conveniente diseñar y publicar de todas las formas posible el esquema de trabajo con el calendario de dias y horas de trabajo de cada equipo y la composición del mismo, junto con las recomendaciones de higiene y distancia social enunciadas anteriormente.
En cuanto a los otros sectores como mantenimiento , almacenes, etc. se puede generar un esquema de equipos mas reducidos pero con la misma lógica de rotaciones.
En áreas como pro ejemplo fotomecánica, u otras como sistemas se puede ya trabajar con sistemas remotos.
Para el sector de logística y expedición por ejemplo se han observado consultando con distintos diarios las siguientes acciones:
Manipulación de devoluciones después de 12 hs de recibidas y usando guantes.
Impedir la cercanía de operarios del sector con los transportistas.
Reorganización del despacho a transportistas para que no carguen simultáneamente. De a dos simultáneos como máximo.
Disponer de dársena reservadas para que los transportistas esperen su turno de cargar.
Un lugar especial para devoluciones y entrega de documentación.
En caso de que la crisis escale, se deben repensar cuales secciones del impreso dejan de salir (ejemplo Deportes, espectáculos, turismo, etc.), cual es la magnitud de la caída de circulación, y a partir de allí, reducir la cantidad de turnos, o la cantidad de equipos presentes en planta.
Drupa pospone su edición de este año a abril de 2021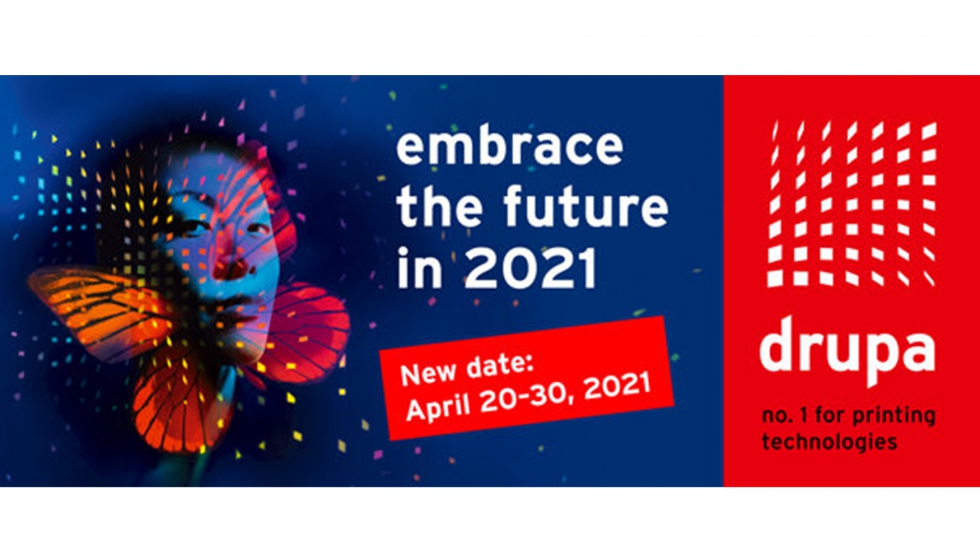 La feria internacional de artes gráficas Drupa, prevista del 16 al 26 de junio de 2020, se aplazará al 20-30 de abril de 2021. Con ello, Messe Düsseldorf sigue la recomendación del equipo de gestión de crisis del Gobierno Federal Alemán de tener en cuenta los principios del Instituto Robert Koch al evaluar el riesgo de los grandes acontecimientos. Sobre la base de esta recomendación y del reciente aumento significativo del número de personas infectadas con el nuevo Coronavirus (SARS-CoV-2), incluso en Europa, Messe Düsseldorf ha reevaluado la situación.
Además, existe el dictamen general emitido por la ciudad de Düsseldorf en el que se prohíben en general los grandes eventos con más de 1.000 participantes presentes al mismo tiempo.
"La decisión se tomó en estrecha consulta con nuestros consejos asesores y asociaciones patrocinadoras", subraya Werner M. Dornscheidt, presidente del Consejo de Administración de Messe Düsseldorf GmbH. También refleja los deseos de las industrias individuales: "Como su socio, estamos haciendo todo lo posible para reducir las pérdidas económicas sufridas por nuestros expositores".
How COVID-19 Has—And Has Not - Affected Global Ad Spending
How the Pandemic Is Affecting Advertising, Media, Retail, Tech and Telecom
here are still many uncertainties regarding how fast and far COVID-19 will spread worldwide, and health officials in most countries without severe outbreaks are simply urging consumers to be cautious. We have taken the same approach in updating our global ad spending forecasts.
In 2020, we expect total media ad spending worldwide will reach $691.7 billion, up by 7.0% from 2019. That's a decrease from our previous forecast when we expected worldwide ad spending to rise by 7.4% to $712.02 billion this year.
Note that our forecast was completed on March 6, 2020, before US President Donald Trump announced a 30-day ban on the entry of most Europeans into the US, which temporarily halted the stock market. Also note that the projections represent a full-year outlook.
Our downward revision is primarily due to one country: China, the epicenter of the COVID-19 outbreak. The first case was discovered there in late December 2019, so we have had more time to track the virus's impact on the country's ad market.
This year, we expect total media ad spending in China to reach $113.7 billion, down from our previous estimate of $121.13 billion. China is the world's second-largest ad market after the US, so a reduction in our China estimates would lower our global forecast.
We have also downgraded China's 2020 ad spending growth rate to 8.4% from 10.5% due to a reduction in spend across all media formats, including digital.
Despite the increase in digital media consumption in China as consumers try to keep themselves entertained and informed at home, advertisers are reluctant to spend what could be lost dollars if supply chain shocks prevent them from getting their products to market. We expect digital ad spending in China to grow by 13.0% in 2020 vs. our previous estimate of 15.2%.
Companies in other parts of the world that are dependent on supply chains in China may also start reducing their ad spend to mitigate economic losses. There is evidence to suggest a slowdown in Amazon ad spending, particularly among smaller third-party sellers that already have tighter cash flow. It's possible that this trend could extend to other digital platforms if problems continue.
Out-of-home (OOH) ad spending could also feel a negative impact worldwide if the social distancing and isolation measures that have emerged in some cities expand to larger territories. Consumers in countries with significant numbers of reported COVID-19 cases are already actively avoiding large public places and gatherings, and that may eventually impact advertisers' willingness to advertise there as well.
For now, however, we are not making any other major adjustments to our ad spending forecasts because of the COVID-19 outbreak. Our forecasts are for the full year, and there is still a strong possibility that the virus could be contained in the coming months, allowing for a rebound in H2 2020. In most countries, the bulk of ad spending takes place in the latter part of the year for the holiday season.
One factor that could cause us to re-evaluate our outlook is if the 2020 Summer Olympics in Tokyo are postponed or canceled. Even as organizers around the world have pulled the plug on many other major events, our forecast assumes that the Olympics will still take place in June, and we expect that to provide a boost in ad spending in the US and worldwide.
A sustained economic contraction could also cause us to revise our forecast later this year. While some major industries—such as travel and tourism—have already been hit hard, it's too soon to tell how debilitating the impact will be on the global economy in the long-term. It's true that the recent stock market blows from the COVID-19 crisis could bring us closer to an economic slowdown, but it's important to note that industry experts have been weighing the possibility of a recession for at least a year.
In China, where it seems that the worst of the outbreak is over, there are early signs of a possible economic turnaround. We are cautiously optimistic that a potential global economic downturn could also be short-lived, mitigating negative impacts on the worldwide ad market on a full-year basis. It's also important to keep in mind that China's GDP growth has been decelerating for the past year, so COVID-19 was an added strain to an already slowing economy and ad market.
Manroland Goss

Dear customers and business partners,

The current pandemic situation expose us all with special challenges, both privately and business-wise. The resulting limitations are now being felt by everyone. This is precisely why we here at manroland Goss are giving our best to keep business as usual for you.

We have taken safety and security measures to protect the health of every employee, customer and supplier. It is also our corporate duty to minimize risks and contain the spread of the virus.

The following actions are some of those measures:
The majority of our staff works in home office and is reachable within normal office hours.
You can still reach your contact persons via the contact data you know.
In order to be able to hold important meetings, we use telephone/ and video conferencing systems (such as Ringcentral or Teamviewer)
You can reach our Tele Support Service as usual by phone at 0821/4244100 or by email at

Esta dirección de correo electrónico está siendo protegida contra los robots de spam. Necesita tener JavaScript habilitado para poder verlo.

.
Business trips and on-site appointments are reduced to a necessary minimum.
Events and training courses are postponed for the time being.
Despite the utmost care in our catalogue of measures, unforeseen events beyond our control may result in restrictions or delays in the process. We rely on your understanding.

Remain confident and prudent. We are convinced that we will master this difficult situation together and will be available to you again in the near future in the usual manner.

With kind regards
manroland Goss Group

Franz Kriechbaum Dr. Daniel Raffler Dirk Rauh
CEO CCO CFO, CSO
Que tanto puede afectar el coronavirus a la apaleada industria de las noticias de Estados Unidos
Declines in ad revenue and all those canceled events might prove manageable. But the real risk would come with a virus-inspired recession — and how the industry's hedge-fund owners might respond to it.
By JOSHUA BENTON @jbenton March 10, 2020, 1:51 p.m.
The news cycles of the past few days have been almost completely monopolized by the novel coronavirus, with stories that would have dominated headlines not that long ago seem to have been shoved deep inside the Internet's A-section.
(Just this morning, Harvard — where we at Nieman Lab and the Nieman Foundation work — announced it was making all classes after this week virtual for the rest of the semester, telling students they needed to vacate their dorms by Sunday evening. Expect a significant share of the next couple of months' Nieman Lab stories to be written and edited from our kitchen tables. Or coffee shops practicing good social-distancing hygiene.)
But amid it all, it may have gotten lost just how dangerous the COVID-19 disruption is to the American news business — in particular, its most endangered segment, local newspapers. I'm not talking about the journalistic risk, which are very real: staffers coming down with the virus, quarantines hurting their ability to report effectively. I'm talking about the risks to the battered business of reporting the news. Here's a sampling of some of the biggest, in what I'd consider increasing order of potential damage.
Event cancellations. While events are still a small slice of the overall revenue pie for most publishers — less than 10 percent for nearly all local outlets — cancellations can come with catastrophic losses of payments made upfront. It's not just the events about journalism that are shutting down; it's the festivals, conferences, town halls, and other events produced by news organizations. That's an especially big loss for national outlets who generate big chunks of their annual revenues in a single weekend. And even if your event doesn't get canceled, who knows how many of the people who would have bought tickets will stay home and watch Netflix instead? This will be a small and nagging problem for most, but potentially existential for some.
Home delivery. Remember, most newspapers still make the clear majority of their money from the print edition, not anything digital. Most of the readers they deliver the print paper to are older and thus more at risk of infection.
If lockdowns on travel and movement within cities grow more intense, how will it impact the thousands of delivery people who take those papers from printing plant to front porch? Will some sneeze-happy paper deliverer be found to be spreading his virus all the way down his route?
Newspapers were already having a very hard time finding people willing to do that job, thanks to new competition from Uber et al.; but now even Uber is worried about keeping drivers — not to mention passengers who might not be too keen on being the 18th person to sit in that particular backseat today. Physical distribution is likely to get caught in the web of whatever changes come.
Advertising declines. This impacts all levels of the news. Big TV networks are canceling their upfronts to pitch their shows to ad buyers. Nervous advertisers are blocking their ads from appearing next to coronavirus stories, making an increasingly popular subject harder to monetize.
Many outlets, especially NBC TV stations, expect a quadriennial boost in ad revenue and audience because of the Summer Olympics. Will they still get it if athletes in Tokyo play before empty arenas — much less if the games are canceled altogether?
Perhaps most importantly, all the companies that stand to lose big in the coming months — hotels, airlines, restaurants, movie studios, cruises, trade shows — will almost certainly have less money to spend buying ads. (And Purell and Clorox don't need to — they can sell out their inventories via panicked Amazon searchers alone.)
The New York Times Co. has already warned that it is "seeing a slowdown in advertising bookings due to 'uncertainty and anxiety' caused by the coronavirus" and projects it'll be responsible for a roughly 10 percent drop in digital ad revenue this quarter. And that was eight days ago, when there were only about 80 confirmed cases in the United States; now there are 790 people in 36 states, a total expected to rise substantially over the next two weeks. Other companies elsewhere are expecting similar drops.
The Times has a failsafe: It is far less reliant on advertising revenue than it used to be, and far more reliant on revenue from readers via digital and print subscriptions. More than 5 million paying subscribers can do that for you. But most news outlets — both local and national, both print- and digital native — don't have that backstop. They're far more at risk; what for the Times might be just a minor infection could be fatal for its weaker relations.
Recession risk. This is the potentially catastrophic one. The American news industry had gone through enormous struggles in the decade-plus since the Great Recession began. And for the past 10 years and eight months, they've been struggling within an economy that is steadily (if unspectacularly) growing. Over that span, I've heard the question a hundred times: If this is how bad things are when times are good, what the hell is gonna happen when there's a recession?
Some headlines from the past day or so: "A 'short, sharp' global recession is starting to look inevitable." "There will be no easy cure for a recession triggered by the coronavirus." "These top economists just upped their odds of a U.S. recession." "The markets are sending a message about coronavirus: The recession risk is real."
The news industry has long been unusually responsive to the broader economy; advertising gets cut more quickly than overall spending does. (In 2009, U.S. ad spend dropped 12 percent, significantly more than the 2.5 percent decline in the overall economy. That responsiveness is why the classic chart of newspaper advertising is so wavy even decades before the web came along.)
The local newspaper business entered 2020 in an unusually tense state. Its largest two companies, No. 1 Gannett and No. 2 GateHouse, merged in November. The new No. 2 company, McClatchy, just declared bankruptcy. No. 3, Tribune, is currently being pillaged by the hedge fund that has already pillaged by No. 4, MNG Enterprises.
All of these companies are now either owned, run, deeply in debt to, or being puppet-mastered by one or more hedge funds or private equity firms, and they are all watching a June 30 deadline that is likely to prompt a new round of mergers and acquisitions.
There is exactly one thing that these financial actors find appealing about owning local newspapers: the opportunity to engage meaningfully in the day's civic discourse through bold journalism that meets the needs of the communities they serve.
Lol, no, really: The one thing is that newspapers generally still throw off predictable cash flow quarter after quarter, and they'd like to have it. The money guys want to milk those assets for as long as they can — cutting costs to the extent possible, pulling out money via questionable dividends, management contracts, and other self-serving, and making sure expenses stay a reliable level below revenues. They appear to have no real end game other than discarding whatever husk remains.
How will those hedge-fund and PE guys react if their newspapers face a sudden revenue shock — and their once-predictable cashflow becomes a lot harder to pull out? I don't know! But private equity funds are not known for their humane treatment of companies that have outlived their perceived usefulness. At an absolute minimum, expect another and bigger wave of layoffs. In the worst case, could a coronavirus-aided recession be the thing that leads to the wave of daily newspaper closures people have been anticipating — but not seeing — for the past decade?